DCode 1.3
Simple code editor for D with syntax coloring. No installation needed and it is a single, self contained exe.

For Microsoft Windows 95/98/ME/2000/XP.

Update: DCode editor has no plans for updates. It was meant to be very simple. It is "the notepad of D code."
Features
D syntax coloring, including nesting comments and the different string types.
Simplified project management.
Find and replace dialog with several options including regular expressions.
Go to line.
Multiple undo and redo.
Auto indent and smart indent options.
Show indent guides option.
Set tab width.
Recently opened files list.
Customize syntax colors and fonts.
DCode was written in the D language using the DFL windowing library and a modification of the Scintilla C++ source named dlex.
Download Software
Download zip file or compressed exe.

DCode is freeware; you may freely redistribute unmodified copies.
Screenshots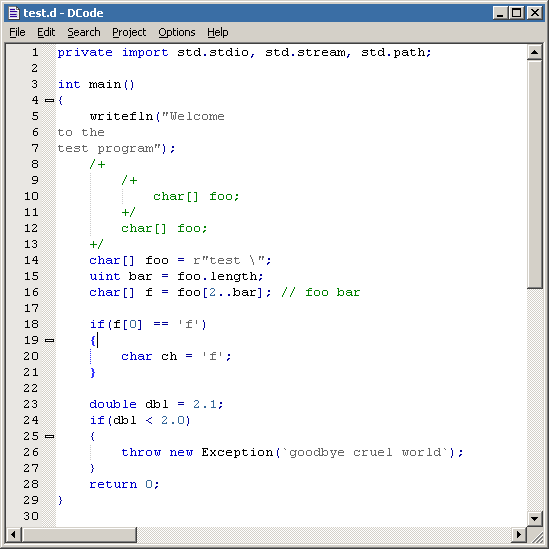 Project management: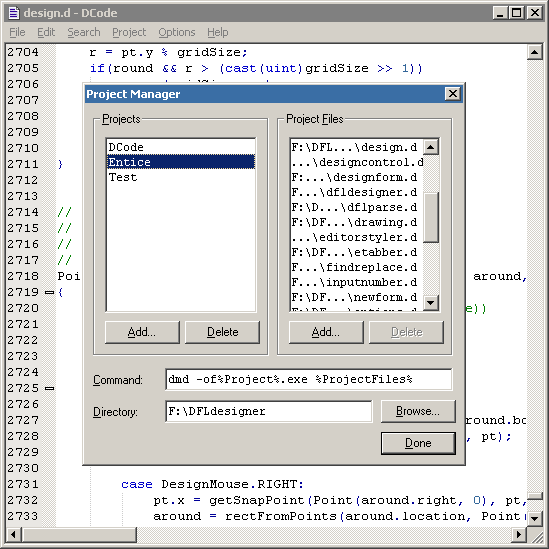 Example of customized colors: